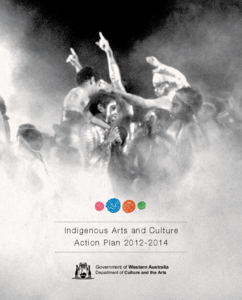 In 2004, DCA launched the Indigenous Arts Development Policy, 'Creative Cultures: Supporting and Respecting Indigenous Cultural Expressions'. The policy reflected the WA Government priority on Indigenous arts and culture and provided guiding principles to support individual artists while strengthening the capacity of communities to develop arts infrastructure.
Since 2004, the Indigenous arts and cultural sector has significantly changed and the Department has reviewed its processes in this area. This process included consultation with the Department's Indigenous Arts Panel and WA Indigenous and non-Indigenous arts organisations. It has also included strategic support for initiatives such as the 'Indigenous Storytellers' Forum', the WA Indigenous Art Award, and 'Revealed: Emerging Aboriginal Artists from Western Australia'.
The findings of these reports, contributions from numerous Indigenous artists and arts organisations, and outcomes of the initiatives above have identified future directions and models for support, which the Department will continue to progress through its revised policy framework 'Creating Value: An Arts and Culture Policy Framework 2010-2014' and through the 'Indigenous Arts and Culture Action Plan 2012-2014'.
Source: Introduction