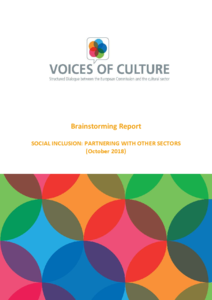 This round of the Voices of Culture (VoC) Structured Dialogue between the cultural sector and the European Commission, was dedicated to Social Inclusion: Partnering with other sectors.
The key stages of the structured dialogue consisted of a moderated brainstorming over one and a half days in April 2018 with 35 representatives from civil society organisations in the cultural and social sectors. This report was drafted between April and August 2018.
In September 2018, the report was presented to a Dialogue Meeting between the VoC, and representatives from the European Commission and from Member States who collaborate on cultural policies within the Open Method of Coordination (OMC). The initial version of the report has been updated based on feedback and new contributions during the Dialogue Meeting. The final version addresses the cultural sector including policy makers and other sectors of civil society.
The report mirrors the challenge of reaching a consensus concerning its subject matter. The whole group was in agreement that a people-centered approach to this topic would be more productive than one that began by focusing on targeted sub-sectors and that the potential contribution of culture to address social inclusion across sectors was underdeveloped. However, this paper represents a bringing together of the work of different sub-groups into one document, rather than an overarching and shared view among participants on all of its content.
Source: Report Introduction