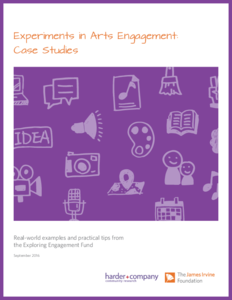 From the report's Introduction:
"Many California arts organizations want their participants and artists to reflect the socioeconomic diversity of the state's population. The Exploring Engagement Fund supports new approaches that these nonprofit organizations are using to reach more diverse participants. Through project experiments, Irvine and its grantees are learning valuable lessons about what it takes to engage diverse participants and the types of changes needed to do this work.
This report, by Harder+Company Community Research in partnership with strategy consultant Diane Espaldon, provides real-world examples and practical tips that enrich lessons originally identified in the October 2014 publication, 'Emerging Lessons and Implications from Exploring Engagement Fund.'
The case studies featured here reflect the experience of the pool of Exploring Engagement Fund grantees and involve a range of grantees by size, discipline, and geography. Their projects specifically focus on engaging participants from communities of color and low-income groups — two populations of particular interest to the Foundation because they are often underrepresented among nonprofit arts participants. The case studies were informed by interviews with the grantees and review of their grant reports. Irvine and the consulting team greatly appreciate the grantees' willingness to be featured and to share their learning with other arts organizations across California and with the arts field overall."