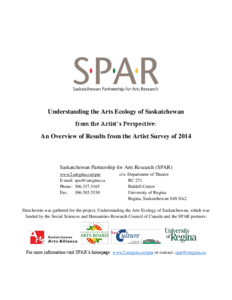 From the report's "Introduction":
"This report contains original data obtained by the Saskatchewan Partnership for Arts Research, a research partnership formed in the Fall of 2012 by the Saskatchewan Arts Alliance, the Saskatchewan Arts Board, SaskCulture and the University of Regina. The research project for which this data was gathered, "Understanding the Arts Ecology of Saskatchewan," was funded by the SPAR partners and the Social Sciences and Humanities Research Council of Canada.
....
In seeking to better understand the arts ecology of Saskatchewan, SPAR decided to begin by learning more about how that ecology is functioning from the point of view of its most basic components: individual artists and members of the public.
....
One of the obstacles to undertaking primary, artist-centered research in any context is knowing how many artists there are in a given area and acquiring contact information for them. To do this, the Saskatchewan Arts Alliance set up an Artist Registry and SPAR drew from data provided by other arts organizations to create a database of artists that served as a rough enumeration of Saskatchewan artists from which the research could proceed.
....
The complexity of the surveys and resulting data, the range of analysis they will support as well as the generosity of respondents in addressing open questions mean that it will take some time to fully mine and assimilate the research results. This report deals exclusively with the results of the Artist Survey and is, therefore, only a preliminary step in making the results of the surveys available to a wider circle of stakeholders in the arts ecology to facilitate further input and questioning that can be applied to the data as well as to planning for the next stage of the research which will entail a series of focus groups and case studies. We are now preparing more detailed reports on each of the topical areas covered here which will provide more comparative analysis across other statistical studies as well as further analysis of SPAR data itself. SPAR welcomes further queries about this report as well as its methodology and forthcoming reports."