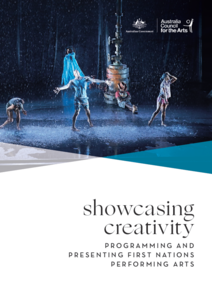 'Showcasing Creativity' reports on the level and types of First Nations performing arts programming in Australia's mainstream venues and festivals; the presenting of works to audiences; and the motivations and obstacles for presenters and producers.
It aims to promote and inform discussion about what is needed to achieve a culturally ambitious nation that cherishes First Nations arts.
'Showcasing Creativity' provides an opportunity and evidence base for the broader arts sector to examine decision making processes about programming, presenting and marketing First Nations works to Australian audiences.
National mapping of the programs of 135 Australian presenters found that First Nations performing arts are under-represented in Australia's mainstream venues and festivals. They comprised around 2% of the almost 6000 works programmed in 2015 seasons.
There is a need to build sector capacity for cross-cultural engagement both ways; between mainstream presenters, and First Nations artists and communities.
Through this research, presenters and producers called for:
proactive initiatives
long-term planning and support to build First Nations representation across the sector and in programming
personal, organisational and sector-wide leadership and commitment to an important two-way cultural conversation.
Source: Report's Website Summary