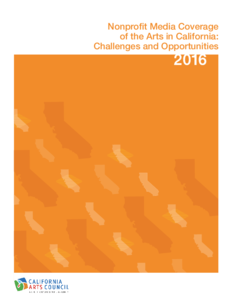 From the report's "Introduction":
"Created in 2013 as the result of a one-time state arts funding increase, the Arts on the Air grant program was specifically designed to support nonprofit television and radio coverage of the arts in California. As per the program's description, 'The Arts on the Air program supports the creation, on-air broadcast, and promotion of original public media content designed to expose Californians to impactful stories about the arts and their value.' The goals of the program were threefold:
•Demonstrate the impact and benefits of the arts through professional storytelling and reporting, utilizing multi-platform strategies.
•Reach and serve a large number of existing and new media outlet audiences; increase content distribution via partnerships; and engage with underserved communities, parents and teachers, and local businesses.
•Feature California artists and arts organizations, community arts activities, and arts education initiatives.
Over the program's two-year run, seven grantees were chosen from a pool of twenty-nine applicants. Grantees received awards ranging from $28,000 to $75,000 with a total program investment of $350,000 over two years.
With a limited amount of funds, the Council prioritized providing larger grants to fewer organizations. Despite the successes in funding innovative programming with community arts engagement at the core, there were challenges to the program that resulted in it being suspended for the 2015-2016 grant cycle.
While there was a significant amount of money requested in this program, the structure of the program, its review criteria, and its overall reach came under question by both applicants and peer review panelists alike. The Council felt it was not effectively serving the field with the grant program as it was structured.
Another challenge centered on how to measure impact and audience. Assessing sheer numbers would reflect better on larger stations. However, smaller stations play an important role in their communities, even if their raw audience numbers are not as vast as those of their larger colleagues.
Additionally, the CAC learned from panelist and applicant feedback that a key program goal of statewide distribution of content was often not realistic given insufficient levels of funding and limitations of station partnerships. And shifts in the media landscape meant that "on air" and broadcast delivery may no longer be a sufficient measurement of reach.
The CAC suspended the program, acknowledging a need to be more nuanced and educated in understanding how best to serve the nonprofit media field. At a September 2015 public meeting, the Council voted to support the development of an advisory committee to evaluate the Arts on the Air program in order to develop recommendations for a more sustainable and robust inclusion of media arts in the CAC's activities.
In response to these issues, a day-long summit was convened on June 23, 2016 at Youth Radio in Oakland, to discuss the current challenges and opportunities regarding nonprofit media coverage of the arts in California. Participants from a variety of organizations throughout the state were invited, in an attempt to gather a broad swath of opinions and experiences from stations large and small, urban and rural, and representative of all of California's distinct regions.
....
The proceedings of the summit and insights from these follow-up sources provide much of the content of this report. The landscape of nonprofit media organizations with which this report is concerned covers primarily television and radio stations, and the associated nonprofit organizations that support and produce content for these outlets. These include 38 NPR member radio stations and 12 PBS member television stations in California, as well as dozens of other non-affiliated public and community stations. There are also a number of California stations that are joint licensees with both radio and television components, as well as online-only media outlets and media service organizations."