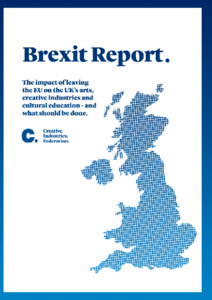 From the report's website:
"The 73-page document draws on evidence from around 500 contributors at 11 meetings held by the Federation nationwide, as well as a members' survey, to identify the opportunities as well as the dangers that policy- and deal-makers must consider in the Brexit process.
It calls for the creative industries to be put at the heart of government thinking as the country develops its new industrial strategy, forges new international trade deals and tackles the fractures in society exposed by June's EU referendum vote.
....
The Federation believes that Brexit offers the chance to tackle some existing problems. It creates an opportunity to:
•    Reboot education and training to provide young people with the skills needed for great jobs in the creative sector, including many with existing skills shortages, such as animation and visual effects

•    Create a visa system fit for the 21st century - enabling access to world-class talent and recognising the importance of freelances and that value does not always correlate with high salaries

But there are risks both to funding and investment and to the regulatory framework that underpins the creative economy. It is vital that the government:
•    Conducts an audit of existing EU funding to the UK's creative sector (especially in the regions) to identify the streams that should be replaced by the UK as part of government public support alongside tax reliefs

•    Upholds intellectual property rights including copyright in trade deals, especially with new markets with bad infringement records, and remains proactive in negotiations on the Digital Single Market and other regulatory issues with major implications for the sector

The consultation identified some immediate impacts including the effect of business uncertainty and the fall in sterling on planning and artists' fees.
A range of other concerns raised include:
•    The capacity to retain and recruit talent and how new visa rules will be implemented
•    Increased costs including additional administration for British artists in touring to the EU and for British venues wanting to present non-UK EU nationals
•    The impact on the finances and international standing of British higher education of a likely cut to the number of EU students and academics
•    The loss of rights protecting original designs with knock-on effects for trade showcases such as London Fashion Week
•    The UK's ability and willingness to defend UK interests in negotiations on the Digital Single Market and other areas of regulations
•    The loss of EU funding streams which have been particularly important in UK nations and regions
•    Whether the UK will proceed with hosting the European City of Culture in 2023"