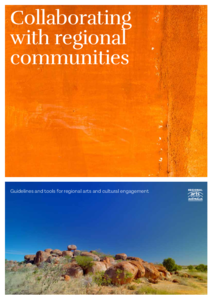 These guidelines and tools have been prepared to support and promote meaningful engagement for those working in the cultural sector in regional Australia.
Whether you are a visitor engaging in collaborative cultural projects or practices, or a host to partners in a collaboration, this document is designed to help you. It describes how to initiate, negotiate and conduct successful collaborative partnerships. It is designed for artists, arts organisations, community groups, venues, local government bodies, touring arts organisations, and other individuals or organisations whose work includes collaborating with others on arts or cultural projects in rural, regional and remote Australia.
Case studies from around the country have been prepared to showcase good practice in cultural collaboration in regional Australia. They are referenced throughout the document.
Source: Report Introduction