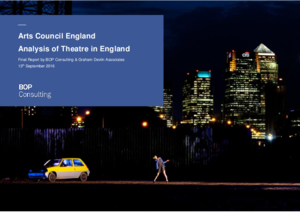 From the report's "Executive Summary":
"In December 2015, BOP Consulting and Graham Devlin Associates were commissioned to undertake an analysis of Theatre in England by Arts Council England. The core aim of the study was to gain an in-depth understanding of the current picture of theatre production, presentation and audiences across the subsidised, unfunded not-for-profit, and commercial theatre sectors; as well as to understand changes over the past 15 years.
How was the research undertaken
To address this aim, a range of different quantitative and qualitative research elements were undertaken, including:
— A literature review covering the last ten years — A stakeholder consultation including in-depth interviews, industry roundtables, an online consultation and attendance at a number of sector group meetings — Analysis of a range of industry data sets, including from Arts Council England, UK Theatre and SOLT, the London Theatre Report, the Audience Agency, Purple Seven and the ITC. A mapping of theatre production and presentation was developed based on the listed data sets and further online research; while a map of attendance was based on a database of 16m theatregoers across 230 venues nationwide, provided by Purple Seven.
The structure of the report and how to read it
The report consolidates the main findings from across all research elements into a series of key findings on theatre production, presentation and audiences. It aims to be accessible to a wide range of audiences – from those who wish to gain a quick view of the main findings, to those who want a detailed account. For those with little time, the Executive Summary provides a brief introduction to the main findings. For those wishing for some more detail, albeit with a short read, the Executive Summary is followed by a nine-page Summary Report.
The full, generally data-driven Main Report stands behind this. This, as well as the preceding summaries, is ordered into four main chapters:
— a summary 'scene-setting' chapter with a focus on theatre finances — a 'mapping' of the sector in terms of production, presentation and audiences — further considerations on theatre production and presentation — further considerations on theatre audiences and consumption
For those with a particular interest in certain areas addressed in the report, more information which supports the material in the main report can be found in a comprehensive set of Appendices. These contain further content based predominantly on the literature review and sector consultation, cross-referred to at various places across the main report.
Finally, the report has a Technical Annex with further detail on the research methodology and data used for this report; information on the literature and sector representatives consulted; and further supplementary data."